Messages from staff (2020)
If you are looking for our most recent assemblies, we have created a new page under the Children tab called Collective Worship 2021.  
Collective Worship - 9th July 2020
Steve McVeigh regularly comes to visit our school and leads fantastic assemblies.  He can't come into school right now, but he has recorded an assembly for us.  If you click on the words below, you can watch it.  Thank you Steve, and we look forward to seeing you in school again as soon as possible.
Collective worship - 3rd July 2020
I hope you are all well and I hope to see you all soon.
Celebrations 5th June 2020
Well done to all of you!
Mrs King's assembly
We hope you enjoy it!
3rd June 2020
Celebrations Assembly 22.05.20
Well done everyone!
Celebration assembly 15th May
Good morning everyone!
Here are the celebrations for this week.  It is really difficult for your teachers to choose who to pick, because they are so proud of all of you.
Collective Worship 12th May
Good morning everyone!
I've had a go at a short video assembly. It was more nerve-racking than I expected!
If you paint your own pebble, I'd love to see some pictures. 
Miss Hayward
Celebrations assembly 7th May 2020
Well done to every single child in the school!  Here are the celebrations this week.  Sorry about the incorrect Makaton at the start!
Have a lovely weekend and happy VE day!
Assembly 5th May
Good morning everyone!
I have made a short assembly.  I realise I held the camera the wrong way round - I will do better next time!
Mr Tutt
This is a reminder of all the things we should be thankful for, linked to our collective worship theme.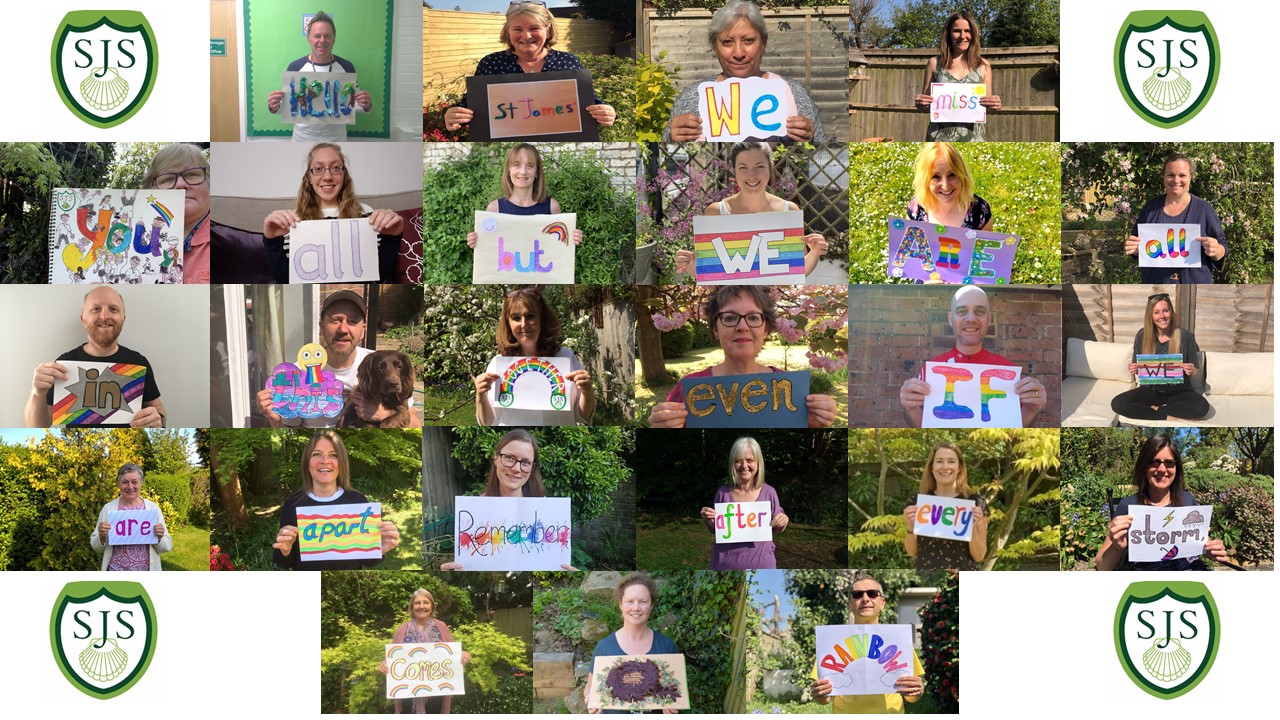 The staff took photos of themselves with words making a special message for the children at St James'.